Friday, I headed over to H&M to see if I could snag a few goodies from the Fashion Against Aids collection. Not only is it FABULOUS but 25% of the proceeds go toward AIDS and HIV awareness projects H&M has been partnering with DAA (Designers Against AIDS) for three years and have raised over 4.3 million bucks! Hey! you're gonna shop anyway, right? Why not make your shopping dollars count for this great cause. This season's FAA collection has a variety of FABULOUS trendy bohemian and tribal inspired pieces, with the most expensive piece ringing in at only $70. Can't beat that! Anyway, surf on over to the FAA website and see what the project is all about. If this moves you, checkout the DAA website to learn more about the organizations and their other endeavors, and how you can get involved!!! Remember, every little bit helps! AWARENESS IS KEY in the fight against AIDS!
Unfortunately, like all H&M collections, you won't find the FAA collection at every H&M store…including the H&M closest to me…bummer! Why do they do that? How do they decide where to place collections? Anyway, I bought a couple consolation pieces and walked out kinda disappointed but resolved to try another H&M another day. (Side Note: It's so funny, about 4 years ago I went to New York and had a field day at H&M. At the time, we did not have H&M here in LA. Fast forward to 2010 and H&M has popped up in just about every major mall or shopping area.) Well, I got home with my consolation purchases and decided that I wanted to return a couple things, so yesterday I went back to the same H&M and much to my delight someone had returned one of three dresses I am lusting for from the FAA collection. YIPPEE!! Since the FAA collection wasn't sold at this particular H&M there was no section for the dress, but it's like it was calling out to me among the many racks…"Eboooniiii…I'm over heeerreee. You're getting cloooooser" (kinda creepy…LOL) but alas, there it was discarded and lonely in a pile of shoes where it had fallen from it's hanger. I passed by the rack, and something caught my eye…double take…is that what I think it is??? YES!! it is! what size is it? size 8!!! SCORE!!! okay, I actually wear a size 6 buuuuut I'm thinking I can make it work. Off to the dressing room I went. What do you guys think?
This is a pic of the dress from the website.
It's a great deal at $24.95
Actually, the one I found was a little different. The paisley print was more orange and the tassel drawstring was completely black. Now to be honest, I probably could have gone down to a 6, but I also like the over-sized flowy look of the size 8. I think it's perfect for summer and will transition nicely to fall with black tights. For summer, I picture it with some strappy sandals. I think it would also look great paired with a black blazer for work. Be Honest…too big??? If it's just a matter of a an inch or so I can take it to my tailor and get it taken in a little.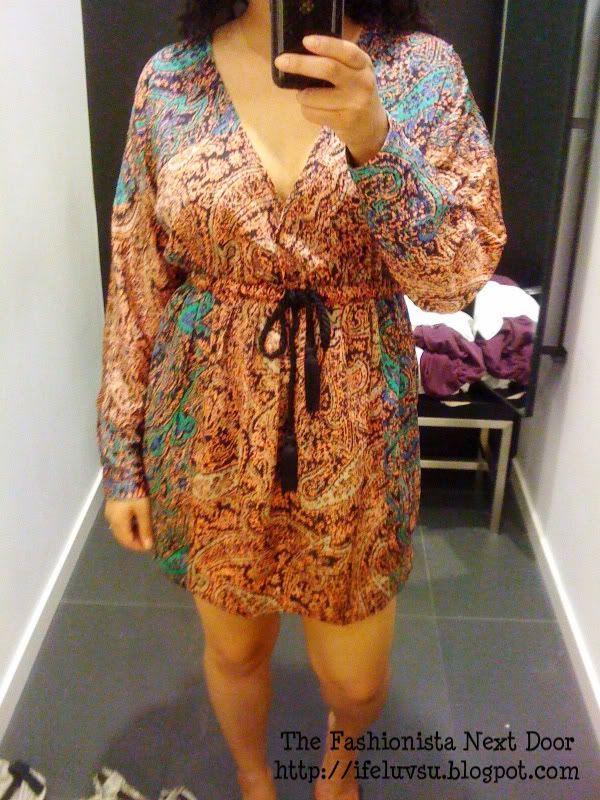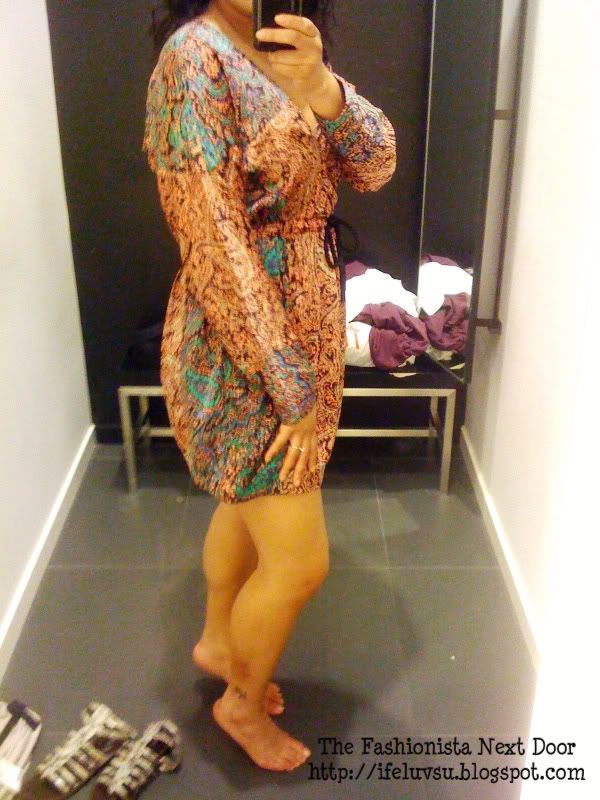 These are the other two dresses I'm hoping to snag from the FAA collection…Good luck to me!
photo credit
I also tried on this cute floral dress (not from the FAA collection). I didn't end up buying it because I noticed a faulty stitch when I got to the register but I showed Fabrice and he loved it sooooo I'll probably be going back to get it. It's only 17.95. You can't really tell in the picture but it has really cute moderately puffy sleeves.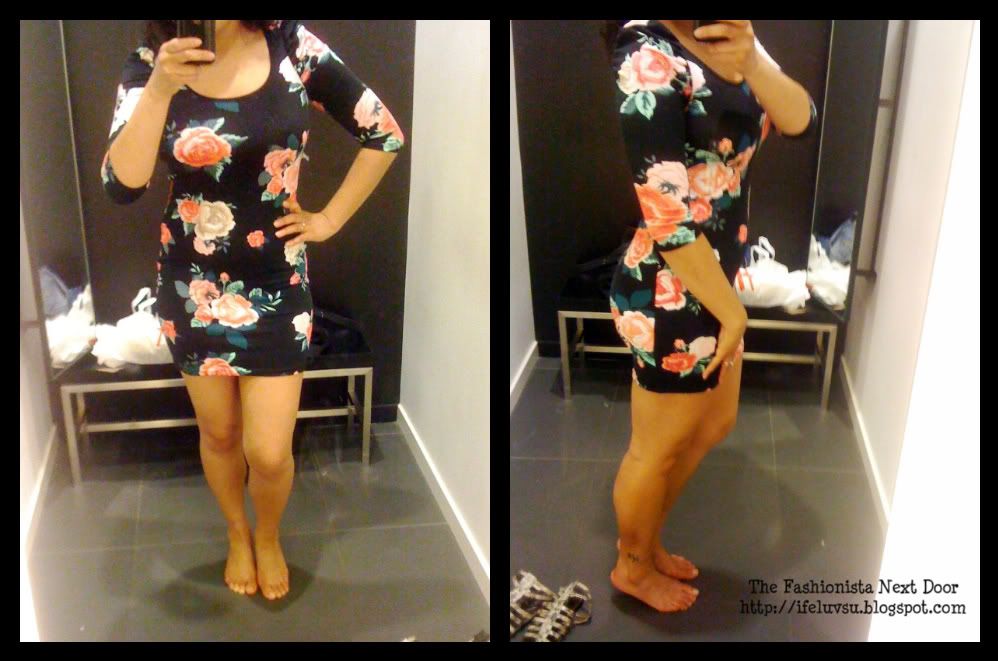 Last but not least, I tried on a pair of harem pants. I really, really want to add harem pants to my wardrobe, and I love how they look on other people but every time I try them on I come to the conclusion that they don't work on my body. I ended up leaving these behind. What do you think?
Side Note: Doe anyone else stand on their tippy toes when trying on clothes??? No, just me? LOL!!! I have to picture everything with heels, even if I'd wear it with flats.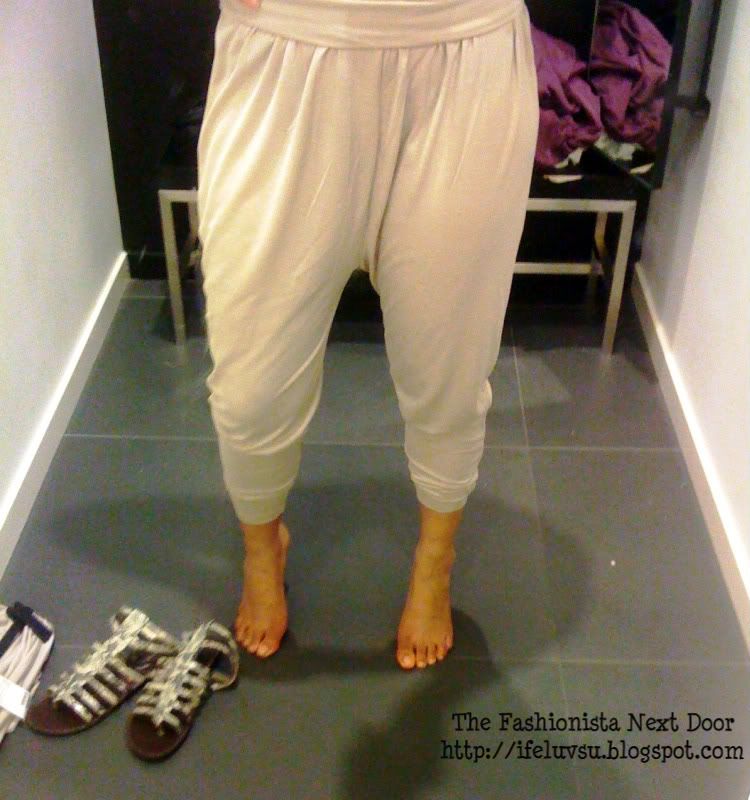 As usual, H&M had a ton of great inexpensive accessories. Sunglasses were 2 for $10 so I picked up these two pair. I love, love, love the leopard frames and you can't really tell but they have a semi-cat-eye sorta vibe! LOVE! I didn't see any others I loved but figured why buy one pair for $10 when you can get two, so I grabbed the basic aviators and surprisingly they looked great on! I have big ol' chipmunk cheeks so finding big glasses that don't dig into my cheeks when I smile is a bit of a task. These looked fab…Look out for them in an OOTD coming soon! Oh, and I got the silver bangle for $3.95!
Okay, last but not least, I picked up this fabulous scarf for $6 at the LOFT. I love the deep purples and fuchsia!!!
This entry was posted on Sunday, June 13th, 2010 at 10:09 pm and is filed under Uncategorized.
You can leave a response, or trackback from your own site.
One Response to "H&M: Fashion Against Aids + Fitting Room Fun"