Okay, so maybe not so crazy, but this look is definitely "sexy, cool" (shout out to all my 90's peeps and TLC fans!!! Lol).
T-shirt: Target "Boyfriend V-neck Pocket Tee" | Jeans: No name, TJ Maxx ($16.99) | Shoes: Wild Pair (29.99) | Flower Pin: H&M ($3.95 | Earrings: Forever 21 ($5.80) | Bangle: H&M ($3.95)| Sunnies: H&M (2 for $10 sale)

I have 7:30 am meetings on Wednesday. It's only 30 minutes earlier than usual, but it makes a hell of a difference when it comes to getting ready. This morning I just did not have the energy so I quickly decided on the standby t-shirt and jeans ensemble as I was brushing my teeth. Now sure, I could have thrown on some flip flops and called it a day, but what kind of fashionista would I be if I did that? AND furthermore, who says a t-shirt and jeans can't be sexy? With the right shoes, and the right accessories this t-shirt & jeans ensemble is flirty and cool….and best of all it was truly effortless (…and very Carrie Bradshaw, don't ya think?)
The Shoes
I love, love, love these shoes (what shoes don't I love?)…so much so that I went up a half size because the damn store LOST the mate to the 7 1/2 ugh! I actually tried these on and fell in love with them a couple weeks ago, but I left them behind after the phantom left shoe ordeal at the store. I couldn't stop thinking about the perfect shade of blush, and the sky high stilleto heel, and the perfectly stacked platform, and the super sexy ankle strap….so I went back HOPING they might have found the match for the 7 1/2…no such luck. So I asked the saleswoman to bring the 8 out so I could give them a try. Well, wouldn't you know it, the 8 was a little bit more roomy, but it was still an okay fit and since they have an ankle strap I don't have to worry about them slipping off my foot… SOLD! I walked out of the store $29.99 later with a big ole cheesy smile on my face…looking at these pictures, I am soooooo happy I decided to go back…these shoes are soooooo pretty!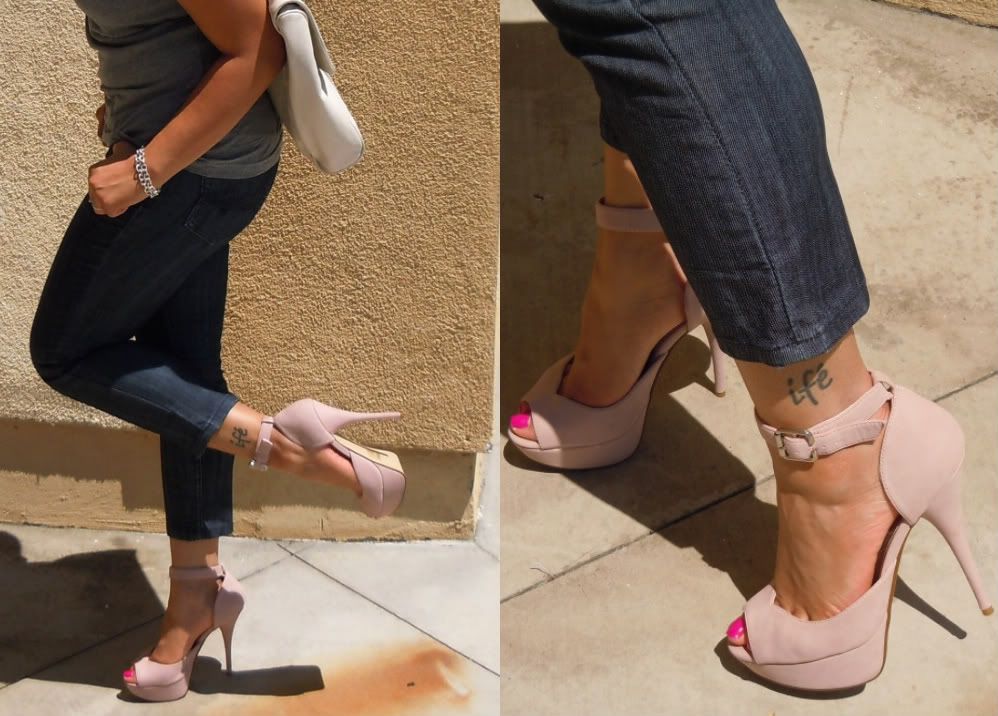 The Flower Pin
When I was in college my friend Lisa and I use to go to random craft shops and buy fake flowers, and hot glue gun them to bobby pins for our hair. I am not sure why I felt the need to pay $3.95 for this little flower pin from H&M instead of just hitting up the craft store. Nonetheless, this little flower pin is very cute & functional. It has a pin closure to wear on clothing, and it also has a little clip so you can wear it in your hair. Not bad, right? I bought a black one too, and they also have red, tan, and black polka dotted flower pins. I am thinking about grabbing a red polka dot one. I think that might look very fun on the lapel of one of my many black blazers. Anyway, this simple white flower is definitely the perfect finishing touch on this look. It single-handedly took my plain gray v-neck tee from drab to fab! If you're a t-shirt fan, try jazzing it up with a fun flower pin. You could also attach it to the end of a necklace, or pin it to a thick ribbon and tie it around your wrist as a bracelet. There are so many things you can do, and it will always add fun feminine flare to whatever you're wearing.
Well, that was simple enough… T-shirt & jeans + one pair of foxy shoes +one fun and flirty accessory = one effortlessly sexy and cool ensemble… that took about 3 minutes to pull together and had me feeling sassy and cute all day! Can't beat that! Oh, and not to mention it was uber COMFORTABLE!
How do you spice up a t-shirt and jeans?
Are you into a flower pins and/or other floral inspired accessories?
Thanks for stopping by!!!
One Response to "CrazySexyCool"