Like I said yesterday, I am dying for fall fashions. Well, today's outfit is my attempt to squeeze a little bit of fall into my life. This look totally embodies one foot in the fall, and one foot stuck in summer! I paired a sheer floral print blouse in warm autumn hues with summer's go-to cutoff shorts, along with my Sam Edelman "Venice" lace up granny boots and navy blue socks (are you guys sick of these boots yet?).
On the Boots-Socks combo: I realize that this combo is probably the least flattering for my legs. I have very muscular legs and I am only 5'4″…which I guess is average height, but it's pretty much a fact that shoes that hit above the ankle bone cut your leg off and make them appear shorter and in my case even more muscular. Adding socks in a contrasting color definitely doesn't help, but I couldn't resist! I just thought they looked so darn cute and were the perfect finishing touch for this look…
Now, I have to be honest, the socks trend is one of the reasons I stand by the motto when it comes to fashion, never say never. I was NOT feeling it at all until this past spring. Ironically, when I started to see people rock socks with clogs (the most debated spring '10 trend), I suddenly got the whole socks thing. I know, very strange! Don't judge me, please. Seriously, it is super cute when it's done right. Don't believe me? Check out this post on Work Your Closet. She highlights several bloggers doing their thing with socks + clogs, but this is one of my favorites…
….and here is another inspiring pic
Anyway, all the sudden I wanted to hop on the bandwagon but I wasn't quite sure how to pull it off. I mean I liked the socks and clogs thing on other people, but I'm a novice with the socks thing so I didn't want to go to crazy, too fast. I also fell in love with the look of booties, and in particular lace-up booties with socks. So when I bought my Sam Edelman's, I also bought a pack of socks to go along with them and today I decided to break them out! Not bad for my first try, right?
Aside from the socks and booties, I was also pretty proud of my little DIY cutoffs. 1) considering that I used to make cutoffs in Jr. High, I think it is pretty much unacceptable to pay anymore than $20…no $10 for them just because they are in style. When I see them in stores priced at $172 (hello True Religion) I am pretty much disgusted. Are you kidding me? I get paying $200 for a pair of well made designer jeans that you are going to wear for years to come. But, cutoff shorts…seriously? No, I just can't justify that by any means. So, I decided that if I was going to wear cutoffs, they'd have to be a DIY. I found an old pair of Mossimo capri pants in my pile o' jeans and went to town. I am sure you all know how to do this simple DIY, but in case you've never tried it here is a quick video, courtesy of The Haute Pursuit.
2) I have been wanting to wear cutoffs to work. I have mentioned before how laid back my office is so I was pretty sure that I could get away with it, but it is still a place of business and I don't want to push it. There is a fine line between casual and inappropriate, and all it takes is one overboard outfit to ruin it for us all. I don't want to be the cause of our new office dress code, if you know what I mean. So, by making my own cutoffs, I was able to make them a little bit longer than the average pair of cutoffs I've seen in stores. I was also able to use a denim that was not too distressed.
Now that I had the perfect cutoffs, it was all about styling them to make them work for the office. My original thought was to wear a blazer a la our stylish friend Megan over at The Frugalista Diaries, but I was also very inspired by our friend Ari over at La Catrina. She rocked a black sheer blouse with cutoffs for a look that I just adored. What I loved about both of these looks was that they dressed up the cutoffs, and that was the look I was going for today…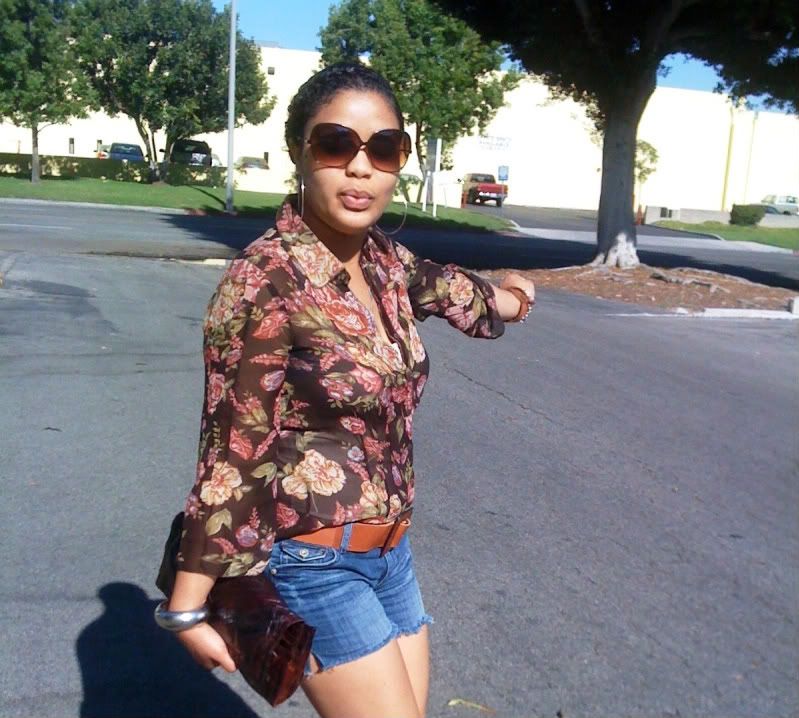 Blouse: ancient, no tag | Shorts: DIY (old Mossimo capris) | Belt: stolen borrowed from mom (thanks, mom!) | Shoes: Sam Edelman "Venice" | Socks: Hue (3-pack for $5 at Nordstrom Rack) | Clutch: thrifted | Sunnies: Target ($16.99) | Leather Cuff: farmer's market | Bangle: H&M ($3.95) | Earrings: Target
What's the dress code at your job?
Would you be able to get away with wearing cutoffs to work?
Are you allowed to wear jeans to work at all?
Don't forget to enter the giveaway to win a gift card for a pair of jeans from Old Navy!!!
Thanks for stopping by!!!