Hello Fashionistas!!! First of all I want to welcome my new readers from the Fashion & Beauty Friend Fridays group and the Meet Virgina Link Party. I appreciate you stopping by and I hope you'll find a reason to stay around a little
Now, I'd like to introduce a new weekly feature in collaboration with our friends at Alloy.com. I am very happy to have Alloy.com as an affiliate of The Fashionista Next Door because they have a lot of great trendy goodies for Fashionistas on a budget like myself. With that being said, I'd like to introduce our new feature…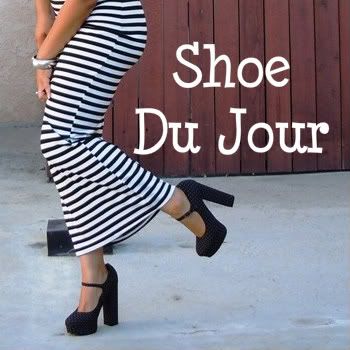 I was browsing Alloy yesterday, and I literally sent myself 11 emails with shoes that I want to buy so I could share them with you all. Today, as I was getting ready to post them, I thought to myself, "Hey, why not make this into a weekly feature… She of the Day… She Du Jour…" soooo here we are! I hope you guys like it, and maybe you'll even find some great shoes for yourself…
With Fall on the horizon, I've got BOOTS on the brain, and Alloy.com has some great boot options for LESS THAN $50! (you know that's right up my alley!)
Today's Shoe Du Jour, The Shelby Boot, is right on trend with great buckles on the shaft and lace up detail in the front. With it's 4 3/4 inch heel, it's got a sexy equestrian kinda vibe, don't ya think? These would be great for stuffing those skinnies into, paired with your heavy wool coats and chunky knits. Needless to say, I really, really love them and the price is right at $49.90.
Click Image to Buy!
Now, the problem is I've got my eye on a few more pairs of shoes on Alloy as well. I need to pace myself because I certainly can't afford to buy them all at once. ugh! So, without seeing the other options, should I go for it? or wait? Perhaps until the weather cools?
Oh and one more thing, if you should happen to decide to do a little shopping on Alloy, don't forget they offer Free Shipping On Orders Over $25 with the code AFS25A
. I HATE paying for shipping so this is always a plus in my book.
Thanks for stopping by!!!
This entry was posted on Wednesday, September 29th, 2010 at 10:33 pm and is filed under Uncategorized.
You can leave a response, or trackback from your own site.