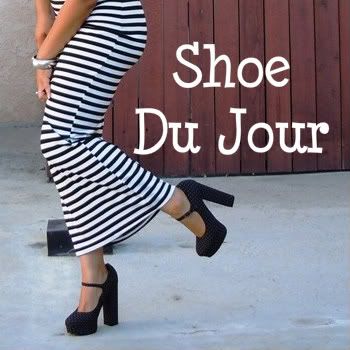 Today's Alloy.com Shoe Du Jour is in honor of my recent Leopard Bootie DEBACLE! Thanks for all of your feedback. You guys are so funny! I have to say it was nice being able to share the experience with you guys because you totally made me laugh this morning as I was reading all the comments. I haven't decided what I'm going to do yet. I am thinking about trying to give the shoe soles a makeover with some sort of black paint or maybe I should just take them to the shoe shop and let them do it. I don't know, it might be a fun DIY! LOL! all my DIY-ers out there… any suggestions?
Anyway, as I was saying today's Alloy.com Shoe Du Jour is the Aleksandra Bootie in Leopard. These lovelies feature a 5″ heel, and 1″ hidden platform. They actually come in three colors — leopard, black, and lace/patent. The leopard and black look suede-ish, but are actually made of velvet. Most importantly, the price is right at $39.90.
Click Image to Buy


$39.90
Get 15% off with promo code AF15A. Today is the LAST DAY for this promo!
Why are leopard booties on my Top 10 must haves for fall list, you ask? Well, first of all, I am just wild about animal prints. But beyond that, they jazz up any basic outfit and gives it a little edge. Of course, you could go the leopard pump route, but it's fall and this fall in particular is all about wild and crazy boots!
So what do you wear them with? ANYTHING! Kim Kardashian shows their versatility…



Why didn't I just get these in the first place? The Fabrication. I love animal print shoes that are made of pony hair (don't kill me animal rights activists! sorry!) so I went with the Milanoo.com option because of the fabrication more than anything. In retrospect, I probably should have just gone with a recognizable brand and settled for a different fabrication. You live and you learn! I also like the fact that the ones I bought come up higher on the ankle, although this Alloy version is probably more flattering on my not-so-long legs.
Anyway, what do you think of today's Shoe Du Jour?
Thanks for stopping by!!!

This entry was posted on Thursday, October 14th, 2010 at 3:49 pm and is filed under Uncategorized.
You can leave a response, or trackback from your own site.