If you're reading this then you are a fashion lover, and if you are a fashion lover you already know that Camel is the hottest color this season. The runways, magazines, and blogs have been flooded with images of luxe camel wool coats, and cozy camel sweaters.  Luckily I already had a few camel pieces in my closet so I didn't have to rush out and buy anything… not that that stopped me! Lol. I did buy a pair of light camel tailored shorts from H&M a couple weeks ago.  So you know I was thrilled when I saw the fabulous spread Tulin Sahin spread from Elle Japan on The Simply Luxurious Life!  I immediately knew that I had all the necessary pieces in my wardrobe to recreate this stunning look!
The Inspiration
The Inspired
Coat: Old Sample | Turtleneck: Peter Nygard | Shorts: H&M ($24.95, kinda pricey) | Belt: hmm, super hold? | Tights: Target | Booties: Sam Edelman "Venice" ($99, Nordstrom Rack) | Earrings: Dots | Bag: Buffalo Exchange
I have to ay that I was quite proud of my remix. It wasn't bad at all! I have had this turtleneck sweater for years now. I bought it at a Nygard factory store in Gardena, CA.  It's right next door to my mom's church (City of Refuge) and we used to stop by after service for a little shopping fun. the details on this sweater are amazing. It has fabulous velvet cutouts on the sides and elbows…. so cute!  I also love the ragland sleeve! I love pieces that have subtle design details. They really make all the difference.
As you can see I went ahead and belted my sweater just like our inspirational look, but I have to tell you that after looking at the pictures I decided I liked it better not belted so I took off the belt.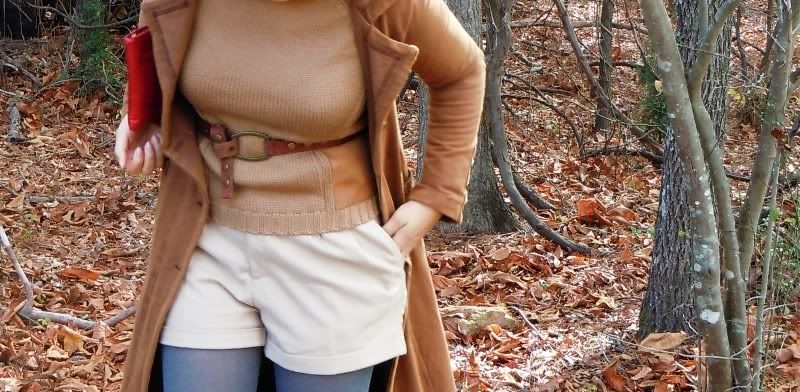 The shorts are such a light camel that they look khaki in the pictures, but they are truly a very light camel in a faux wool (is there such a thing?) fabric. They are slightly high-waisted too, which I love! I have a feeling they are going to get a lot of wear. By the way,  Fabrice doesn't get the whole shorts and tights in the winter thing….
Him: why are you wearing shorts and tights? It's cold out side. Why don't you just wear pants?
Me: because it's cute.
Him: *shrug* (followed by a look of confusion)…okay, if you say so.
To make the inspirational look all my own, I decided to play with the idea of mixed neutrals.  I bought these gray tights at Target a while ago.  Now that I am seeing them in pictures they are a little more blue than I'd like, but they still work.  I think I am going to have to buy another pair of gray tights, though.  Anyway, mixing neutrals is a great way to add depth to an otherwise bland outfit.  Here, the splash of gray acts as a pop of color even though gray is also a neutral shade.  Mixing neutrals is also about mixing various tonal shades of the same color.  Playing with texture and fabrication will also serve to add a little depth.  Who What Wear's Trend Report shows us all the fabulous ways your fave celebrities are mixing neutrals this fall.
So, I am sure that you all noticed that I am rocking bright red lips in this post! I am pretty sure that every 6 months, I decide I want to start wearing lipstick again. Lol! I've been seeing red lips everywhere lately, and I felt like a new tube of red lipstick was calling my name… then I got my November issues in the mail and enclosed I found not one, but TWO Maybelline Color Sensational lipstick coupons.  Well, if that ain't a sign, I don't know what is (Lol, as if those coupons are not in there every month…please disregard my silly justifications!)  Anyway, I went with "Red Revival" and I do love it! It's perfectly matte and long lasting when paired with a soft nude liner. Fab and I went out for sushi and after an entire sushi boat and two shots of sake later, my lipstick was still going pretty strong… impressive!  It also looked great with a thin layer of Cranberry tinted lip gloss from The Body Shop.  The best part? It came off with ease at the end of the night. Gotta love it! You can pick up a tube for yourself at your local drugstore or Target for anywhere from $5 – $8.
So how did my inspired look compare to my inspiration?
Thanks for stopping by!!!
One Response to "Mixed Neutrals (Outfit Inspiration Calendar: Wk 1, Look 1)"