If you've been reading The Fashionista Next Door for a while, then you already know that I am always struggling with what to do with my hair and I often get stuck in a rut where I wear my hair in a ponytail for months at a time.  Lately, I've been able to escape the ponytail woes because I work from home now and I have much more time to play with my hair.  Unfortunately, that has meant that I have been straightening my hair much more than I should.  In fact, if you've just started reading my blog in the last few months, you probably haven't even seen my natural hair… so here it is in an old picture from last summer.
As you can see it is a combination of curly, wavy, and FRIZZY! I have a love/hate relationship with it to be honest. There are days when it looks fabulous but there are also days where I spend 30 minutes diffusing and scrunching only to throw it into ponytail in frustration!  I absolutely love curly hair…just not MY curly hair. My disappointment comes down to 4  things:
It's curly, but it's not BIG! I LOVE big thick voluminous curls! I tend to think my own curls fall into the dried up jheri curl category! Not cute! Even though my hair is VERY curly, it is also very fine, which means my curls end up falling flat no matter what I do. I have DIFFUSED them to death and I just get no volume.
I just can't take the frizz! ugh! it drives me up the wall. I don't think I can say anything else about that. if you have curly hair, you know the deal.
Curly hair can be so damn inconsistent. If I happen to get perfect curls one day, I try to replicate every step exactly to reproduce the same defined, frizz-free curls… but my efforts are futile because curly hair has mind of it's own.  It doesn't help that my hair is 3 different textures — curly on the right side, wavy on the left side, and SUPER EXTREME curly in the back. ugh!
Washing and blow drying my hair every day is just so damaging.  It makes my hair extremely dry.  If I am going to wear my natural I have got to find a way to style it without washing and blow drying it every day AND it needs to last at least 3 days.
So, I read a ton of natural hair blogs like Moptop Maven, Natural Belle, and Honey Brown Sugar and I wish and dream for big curls. I am always on the look out for a new natural hair braiding or twisting technique that might give me what Fabrice calls "coffee shop hair," also known as a big, carefree, curly fro, which he associates with the fabulous intellectual ladies that hang out in coffee shops listening to jazz and poetry. Lol!  Well, I don't know about all that, but I do know that I want "coffee shop hair" or whatever you want to call it.  Fabrice is my witness and he will tel you that I have tried everything and it is always an epic failure! Until now…
You all may have noticed me rocking a curly do in my last post. I tried something new and wouldn't you know, it worked!  It wasn't exactly "big" but it certainly had much more volume than my natural curls. The curls were also much more defined and a lot less frizzy! and here is how I did it…
Friday Afternoon
Using my fingers I sectioned my damp hair and twisted it into knots with just a tiny bit of regular styling gel,and secured them with clips.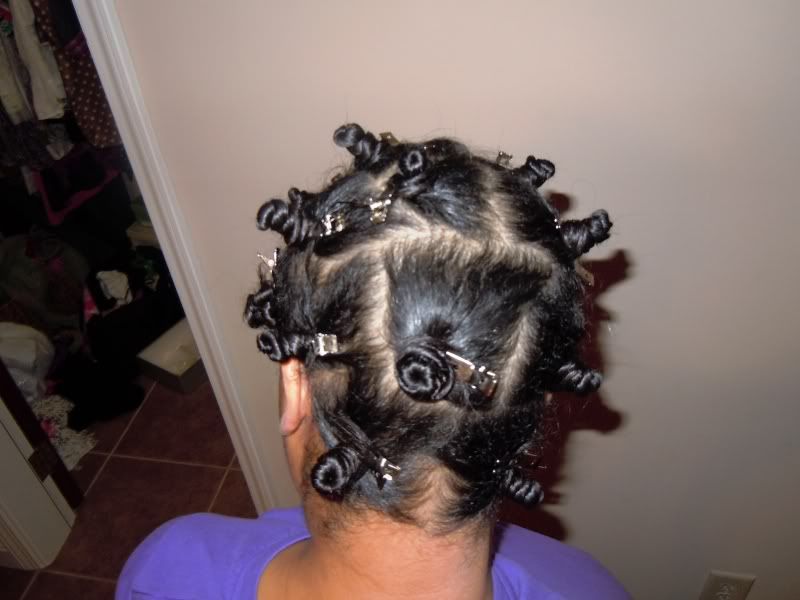 Saturday Morning
I unwrapped the twists  to reveal perfect little coils all over my head. (not cute! I was worried) I started separating the coils with my fingers and the disappointment of another failed "coffee shop hair" attempt began to set in.  As I separated the coils, my hair was getting really frizzy (insert sad face here)….but wait! I think I am supposed to be using some kinda product on the tips of my fingers as I separate the curls to prevent the frizzies… duh! crisis averted! I put a tiny bit of
Smooth 'n Shine Hair Polisher
on the tips of my fingers as I separated the coils…and wow! It wasn't  half bad after all. My hair did shrink up and it looks very short that doesn't bother me at all! I think I like it…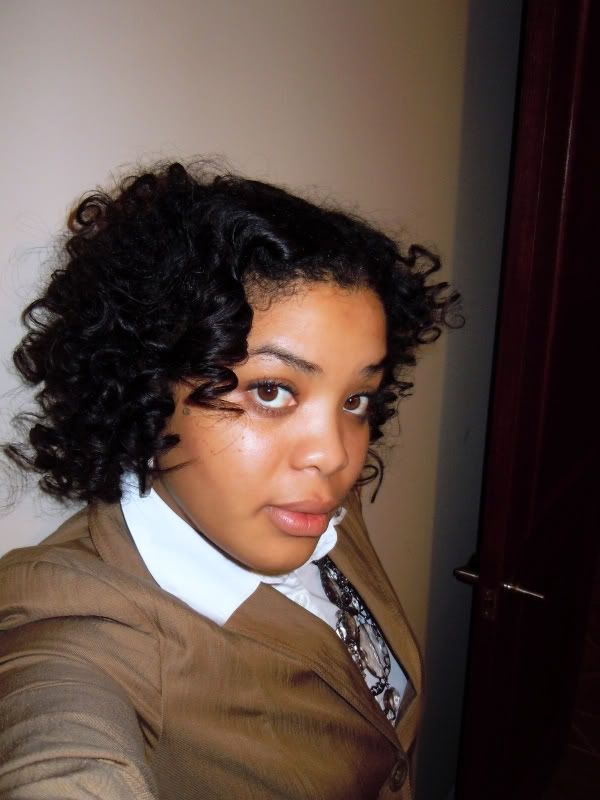 Sunday Morning
So the true test is whether or not the curls would last more than one day! I put on my satin bonnet and hit the sack. The next morning I was sure that my curls were going to be a HOT frizzy mess, but wouldn't you know it… they looked even better then they did the day before because the curls loosened up a bit (which you guys saw in yesterday's post).  And although I didn't take pictures yesterday and today, I can tell you that my curls are still going! Today was definitely the last day that I could have squeezed out of it. Tomorrow, I'll be washing my hair and doing it all over again!
Now, I am sure this method of styling is nothing new to many of you, but I was so happy to have discovered it! Washing my hair every 3 – 4 days and using no heat to dry it is much healthier for my already fine and fragile hair AND I love the look of it much more than my natural curl.  I like to think that I just enhanced my natural curl… Lol!  This is just in time for rainy season, too. Lord knows there is no point in straightening your hair just to walk out in the rain…
Thanks for stopping by!!
4 Responses to "A Natural Hair Experiment: Bantu Knot Curls"