Happy Style Me Friday!!! Today, we have another look submitted by Prissy over at Rush Our Fashion from the J.Crew shopping cart!  It was really cold and windy in Atlanta today.  This outfit was perfect because of all the layers.  You guys know me…even when it's cold outside, I am likely to get hot at some point. It is imperative that I have the ability peel off a layer.  I also loved the use of bright colors for a bit of fall color blocking!  So as usual, I made a few adjustments to my outfit based on what I had in my closet. I didn't have an orange turtleneck so I layered my Mossimo orange v-neck over my new white Old Navy Turtleneck.  I thought it created the same effect and provided the extra warmth of an additional layer.  I also didn't have the khaki colored jacket so I used my olive H&M anorak.  Finally, I wore my pink jeans instead of trousers. I was actually hoping my new Old Navy pink euphoria trousers would arrive in the mail in time for me to wear them today, but lunchtime rolled around and they still weren't here. In retrospect, the jeans were probably a better option for the cold anyway!
H&M Anorak (exact J. Crew version
here
& similar versions
here
) |
Merona V-neck
, $17.99 |
Old Navy Turtleneck
, $17.94 | Gifted Pink Jeans (similar
here
,
here
&
here
) | Thrifted Belt | Sam Edeman "Venice" (no longer available) | Blake Schoolgirl Satchel c/o
Handbag Heaven
|
Braided Crystal Collar
&
Leather and  Gold Chain Bracele
t c/o Mimi's, the Look for Less | Michael Kors Chain Watch (old) |
Versace Sunnies
I just had to take a picture by the trees. Again, being a SoCal girl, I am still so enamored with all the "real trees" here in Atlanta. I get giddy when I see the leaves start changing colors. It's so beautiful! (Side Note: Is it just me, or did I get three shades lighter overnight? It's like my skin just flips the switch when the weather gets cold. LOL)
"Style Me Friday" Insights on Personal Style
Again, this weeks insight is short and sweet — use what you got! Allow yourself to be inspired by a color palette or a silhouette, and run with it! I was inspired by the color blocking, the turtleneck collar, and the belted jacket silhouette, so I built my outfit around these inspirations using the pieces I had in my closet.
Before I go, I want to announce the winners of the Vedette Shapewear giveaway! Congrats to…
Maria Scott
Chi Chi
Candyce Nicole
I'll be emailing you lovely ladies  with directions later this afternoon!
p.s If you work from home, please join us and show off your Home Office Style — head on over to the link up here!
Have a GREAT weekend!
Linking Up to Fashion Fridays on Blonde Episodes!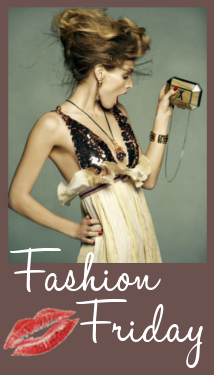 27 Responses to "Style Me Friday: Fall Color Blocking"